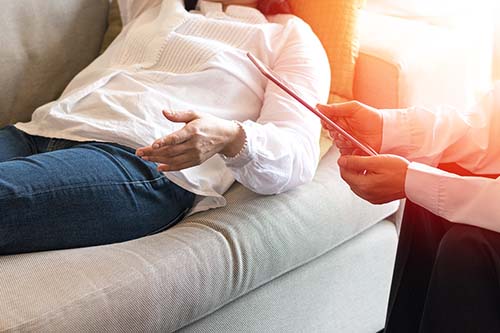 For people battling addiction, it can often be very difficult to manage emotions and relationships as well. There are many treatment options that can help, including a dialectical behavior therapy program. We offer this therapy as a component of our addiction treatment center at Fort Behavioral Health. If you're ready to find help, our team is ready to support you.
What Is a Dialectical Behavior Therapy Program?
The dialectical behavior therapy program in TX we offer, sometimes just called DBT, is a comprehensive program designed to help facilitate healing and recovery. You will learn new skills to help you manage the difficult emotions you have as you work through addiction. The goal of this type of treatment is to give you key skills to help you continue on the path of sobriety.
There are four key areas to DBT. It starts with mindfulness. The goal here is to improve your ability to accept what is happening and to be present in your life at this moment. Second, it's important to increase your ability to tolerate the negative emotions you have. This phase, called distress tolerance, aims to help you stop trying to escape from the emotions you have.
The third component is emotion regulation. In this phase, you will learn how to manage as well as change the intense emotions you have. These emotions typically cause the problems you're experiencing. Finally, interpersonal effectiveness is the phase in which you'll learn how to communicate in an assertive manner with others. The goal here is to help you develop self-respect. This will help you to develop stronger relationships.
Who Needs DBT?
Our dialectical behavior therapy program is open to anyone facing difficulties related to drug and alcohol addiction, trauma, or other emotional distress. It may not be right for all people, but it can provide a strong foundation of information and real-life, effective strategies for dealing with the complexities in your life.
You can expect each session to last about an hour. During that time, you will set some goals with your therapist and openly discuss what's happening. You will be in a safe place where you can open up without repercussions.
A Comprehensive Treatment Plan
Our dialectical behavior therapy program is one component of the care we offer at Fort Behavioral Therapy. It allows you to develop a plan to move forward. After speaking to your doctors and counselors here, we'll determine if DBT is right for you. If so, you may engage in it along with other therapy programs such as:
Cognitive-behavioral therapy
Motivational interviewing
EMDR therapy
Comprehensive detox
No matter what you are facing today, it is possible to find help and support. Our dialectical behavior therapy program is one component of this for many of our clients.
Take the First Step by Calling Fort Behavioral Health for Support
With a wide range of treatment programs available, Fort Behavioral Health is here to help you turn the page and start on your recovery. We offer a dialectical behavior therapy program as one of the many options for care. Whether you struggle with alcohol addiction or an addiction to illicit or prescription drugs, we can help. Furthermore, we offer several dual diagnosis treatment programs. Dual diagnosis treatment means that we address both an addiction and mental illness simultaneously. This treatment is essential for many of our patients' long term recovery.
Are you ready to stop living in the shadow of addiction? We're ready to help. Contact Fort Behavioral Health so we can talk about what treatment method is right for you. Call 844.332.1807 today to learn more about our dialectical behavior therapy program in TX.